Welcome to the Norbury Islamic Academy Website
Asalaamo Alaikum Wa Rahmatoolahi Wa Barakatahu
Announcements
Eid ul Fitr 2020
Eid-ul-fitr will be tomorrow
(Sunday 24th May 2020)
Due to the pandemic, NIA is closed to the public. No Eid salaah is taking place at the masjid. Please pray Eid salaah at home or 2-4 rakaat nafl individually if the conditions of Eid salaah are not met. More info about the Eid prayer during lockdown can be found here:
https://islamicportal.co.uk/covid-19-eid-salah-during-lockdown/
If you have not yet had a chance to pay your Fitra, you MUST do so before you complete your Eid Salah. You need to pay £3 per person in your household. Please make payment using our bank details below and add reference 'SADAQATUL FITR':
Norbury Islamic Academy
Sort-code: 60-15-16
Account number: 64021645
or in person at Madinah Halal butchers (1575 London Rd, Norbury, London SW16 4AA).
Lillah donations
We are now collecting 

Lillah donations via bank transfer

. To make a donation or set-up a standing order, please use the following bank account

More info:

www.norbury.org/lillah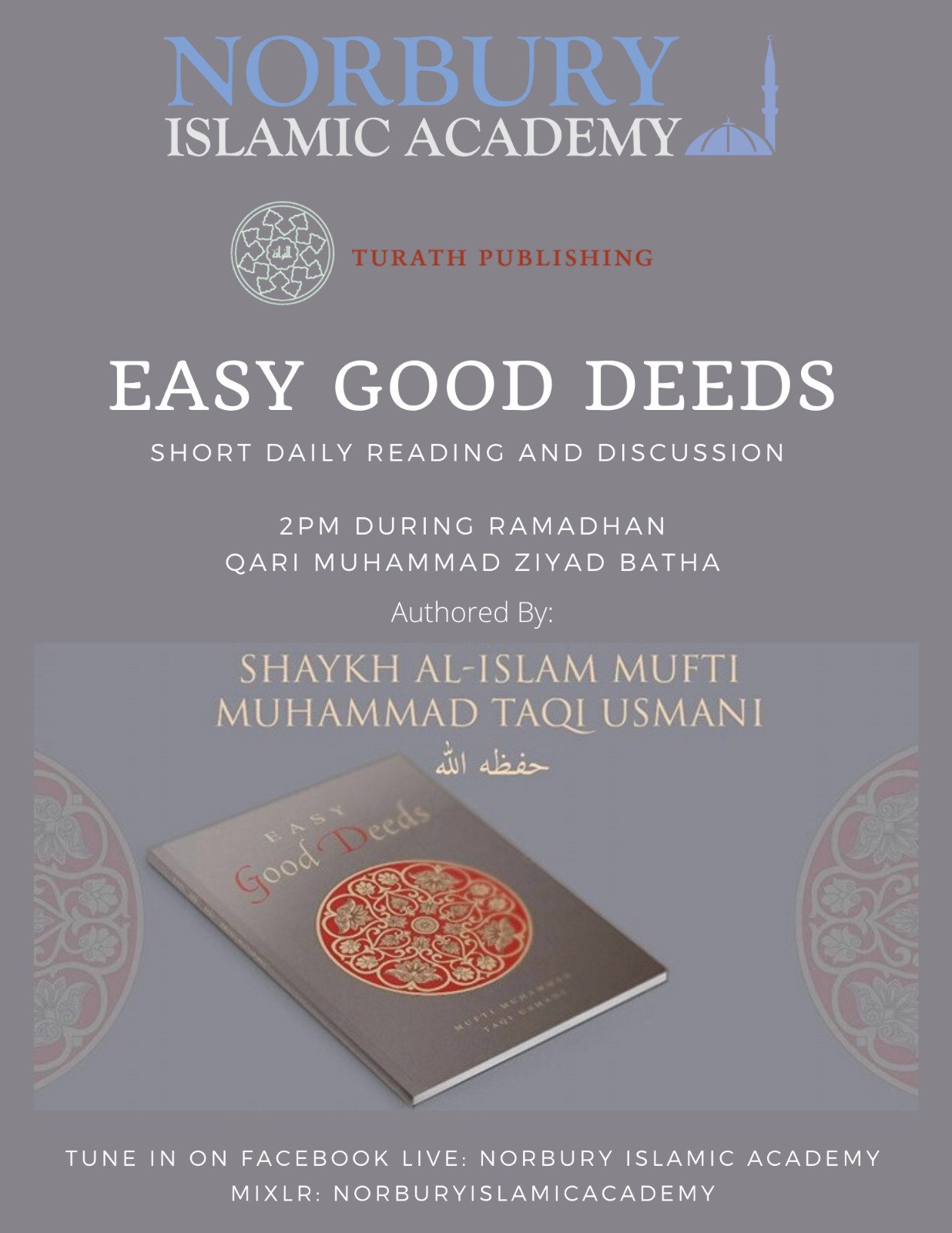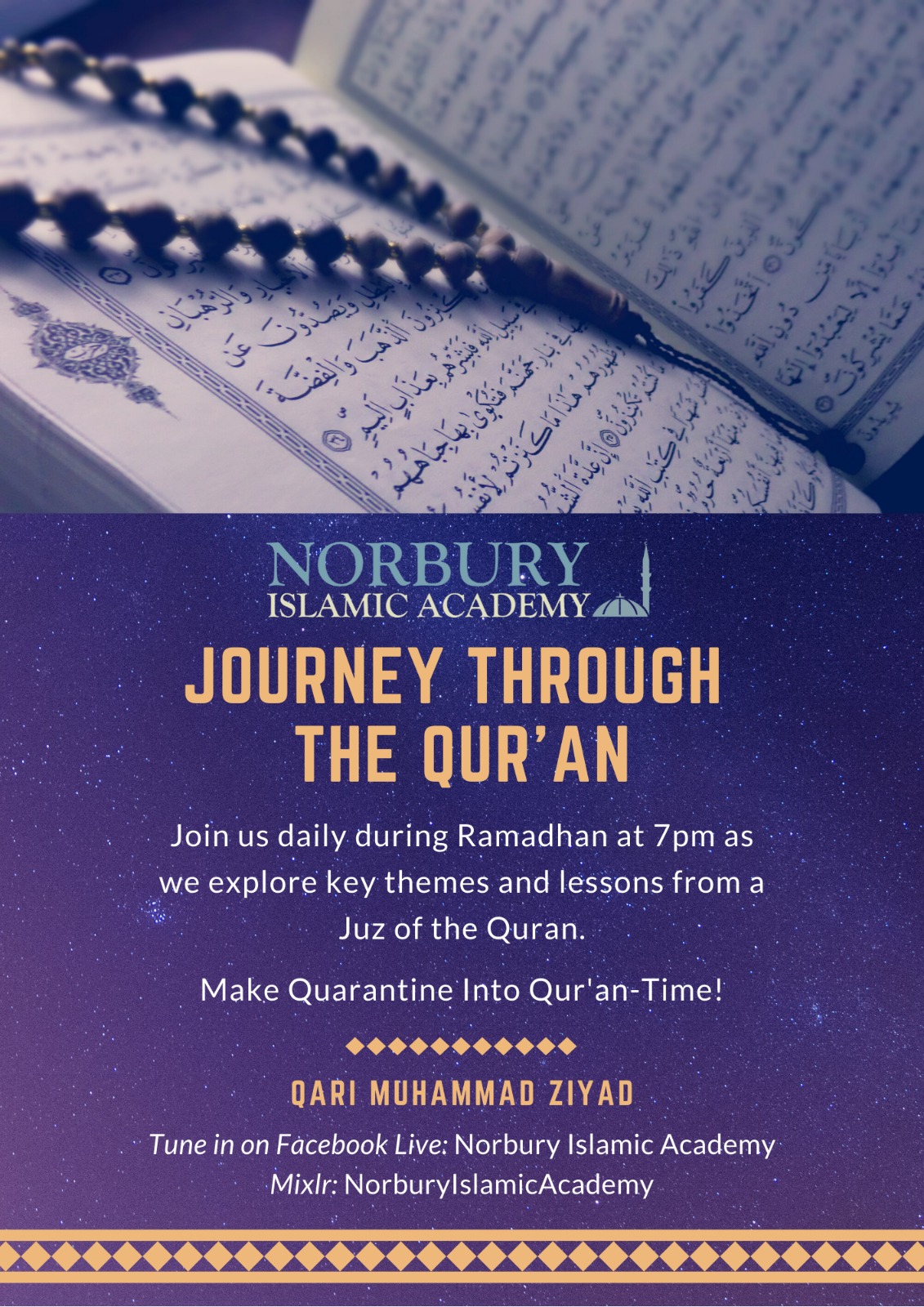 Coronavirus Pandemic Update - 27th March 2020
AFTER FAJR SALAAH ON FRIDAY 20th MARCH, ALL CONGREGATIONAL AND JUMUAH PRAYERS SUSPENDED UNTIL FURTHER NOTICE.

Praise be to Allah, Lord of the Worlds, and peace and blessings on His final messenger, Muhammad ﷺ. We ask Allah to grant us patience, to strengthen our reliance on Him, and to increase us in our faith and good deeds..
.
In line with the most recent advice from local and Central Government, medical professionals and after very careful consideration by our Imams in consultation with Islamic scholars and other Mosques and Centres, Norbury Islamic Academy have taken the decision to suspend all congregational prayers until further notice. The Masjid will close after Fajr salaah tomorrow.

We will keep the situation under constant review, and ensure our congregation is informed through our website at www.norbury.org Insha'Allah.

May Allah help us all in this time of trial; we should turn to Him in increased devotion through prayer, dua and reading the Qur'an.

Nikah (Islamic Marriage) Ceremonies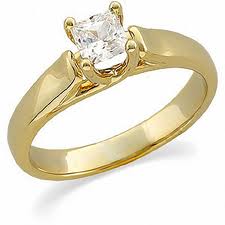 Nikah ceremonies can now be arranged with the Academy. For more information please speak to one of the Imaams at the Masjid
Monthly Salaah Timetable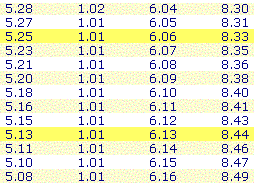 Check the monthly salaah times for the South London area online! Please refer to your local masjid timetable for the correct times for your area.
Salaah times for
Madressa Information

Madressa holidays, timings and important announcements will be available on this website soon insha'Allah. Please re-visit this site shortly.
Laylatul Qadr
HADITH NO. 6
Ubaadah bin Saamit (Radhiallaho anho) reports that he asked the Prophet (Sallallaho alaihe wasallam) about "Laylatul Qadr". He replied: "It is in Ramadhan, during the last ten days, on the unevenly numbered nights, either the 21st 23rd, 25th, 27th, 29th or the last night of Ramadhan. Whosoever stands in "Ibaadah" on this night, with sincere faith and with genuine hopes of gaining reward, his previous sins will be forgiven. Among the signs of this night is that it is a serene, quiet, shining night, neither hot, nor cold but temperate as if a moon is shining clear, and no meteors are shot at the "Shayateen" on that night; it lasts until the break of the dawn. Another sign is that at morn, the Sun rises without any radiant beams of light, appearing rather like the moon in it's fullness. On that day, Allah prohibits the "Shayateen" from rising up with the Sun."
COMMENTARY
Part of what has been mentioned in this Hadith has already been dealt with. Some signs are here mentioned about the actual night. These signs are clear and need no further elucidation. Apart from these, there are other signs too, as mentioned in the Ahadith or in the experiences of those who had the good fortune to experience "Laylatul Qadr." The sign that is, however; most specific in the Hadith is the rising of the sun, 'without any radiant beams of light.' Other signs are not always there. One Sahaabi, Ab'da bin Abi Lubaaba (Radhi Allaho anho) says: "On the evening of the 27th , I tasted the water of the sea and it was sweet." Ayub bin Khalid said: 'I once had to bathe myself with sea water, and on tasting it, found, it sweet. This was on the 23rd night." Some of the "Mashaaikh" (religious divines) wrote that, on the evening of "Laylatul Qadr", everything prostrates itself before Allah, so much so that trees fall flat on the ground, then return to their normal position; these are however spiritual phenomena not visible to the ordinary person.
HADITH NO. 7
Aaisha (RadhiAllaho anha) reports: "I said: 'O Messenger of Allah (Sallallaho alaihe wasallam), should I find myself the "Laylatul Qadr", hat shall I pray. The Prophet (Sallallaho alaihe wasallam) replied: say, Allaahumma innaka afuwwun tohibbu al'afwa fa'fu anna "O Allah, Thou art the One who grants pardon for sins. Thou lovest to pardon, so O pardon me."
COMMENTARY
This is indeed such an all-inclusive prayer, wherein one begs that Allah in His infinite Grace should forgive his sins. If that has been obtained, the path to the Hereafter is secure. What more would one require? Imaam Sufyaan Thowry used to say that to keep oneself busy on this night with 'Duaa' (invocations to Allah) is better than any other form of worship (Ibaadah). Ibne Rajab says that one should not only remain busy with 'Duaa', but should also take part in all other form of 'Ibaadah', e.g. recitation of the Holy Qur'an, 'Salaat', contemplation, etc. This latter opinion is most correct and nearer to what Rasulullah (Sallallaho alaihe wasallam) had said, as already mentioned in the previous Ahaadith.
Extract from
Fadha'il-e-A'maal